Message for Spring, 2018
As I sat down to bring forward a channel for Spring, 2018, I was reflecting upon the words of certain songs.
An artist is a channel in their own way, some more than others.
Chris Cornell sang about "higher truth". I can't help but wonder what could happen if we spent less time bickering about issues and opinions and more time seeing and seeking a higher truth. Can we bring together all our individual truths and raise them up to find something higher. See each other through the eyes of Source. Listen to our inner knowing. Shine our shared light.

John Lennon prophesied a world as "one". I have heard this message from the Animal Kingdom since I began this work. That we are all One.

Prince strongly suggested allowing the "purple rain" to fall. I can't help but visualize the color spectrum of violet flame energy and light cleansing away fear, anger…, and all the other lower vibrations. Then, we can move to higher ground. (Love)

Many of the answers and guidance we seek is already present in the words of our ancestors who were here perhaps just a bit too soon. But the seeds were planted. Their otherworldly offerings here for us now.

The Angels say that it's not too late to find the threads of higher knowledge already weaving a new tapestry creating our new world. Instead of a new channel today, they want me to re-share the channel they brought through at the end of last year:

Creating a New World
"Many of you are in resistance right now. And we understand. We want you to remember what you resist, persists. If you stay in your resistant place you will be creating more of that focus, whether you are resisting a person, an ideology or a structure.We see a powerful time with so many people demanding change. There is an asking right now like never before. This is an impetus to a powerful awakening. It is important to realize that down deep you are all seeking the same thing. You have different labeling and you are all coming from your own unique perspective and beliefs.Until you can look out at all the differing viewpoints and see them as one, you will continue to create the exact opposite from what you really want. Your inner voice holds the truth. It will show you the way forward and will lead you toward the freedom that you all seek.Love will find a way but only if you are in love. In love, you are each steadily flowing the power that creates a new world."
Channeled by Laura Rose from our Angels, Spirit Guides & Ancestors
We are not alone.11/11/16

The truth will indeed set us free once we realize that each one of us brings in our own essential, unique thread to the tapestry of the New World.

Blessings,
Laura
© copyrighted material
_________________________________________________________________________________________
Online classes and cds
(to download)
Purple Rose Tarot 101 online class
Are you interested in tarot cards but they can seem a bit intimidating? Or, would you like some help understanding how to read the various meanings of each card? Join Laura Rose as she explains the language of tarot in detail and helps you to tap into your intuition. This course covers everything from card spreads & contrary cards to how to put it all together to do tarot readings for yourself and others.
We include 2 handouts for you to follow, 2 pictures to illustrate our course, and the
2 part audio course itself. © 2017
***After a successful purchase, you must click the "return to merchant"
button from pay pal to access the file!!
Purple Rose Tree Meditation
as an mp3 file
By Laura Rose
Enjoy this powerful and easy to follow guided meditation. The Purple Rose Tree Meditation is a perfect addition to any new or existing meditation practice. Regular energetic self care is essential to your well being. The Purple Rose Tree Meditation helps you to clear your energy and chakras bringing overall balance to you on every level. This ten minute meditation can be done many times throughout your day to keep you relaxed and connected to your Spiritual Source. Nature provides for all of your needs. By tapping into the energy of the trees, you can quickly ground and center yourself bringing clarity, strength, and wisdom. The best way to stay well is to fully embrace the flow of universal energy. This meditation places you directly in that flow as it provides you with energetic protection through your inherent connection to Mother Earth. $9.95 © 2012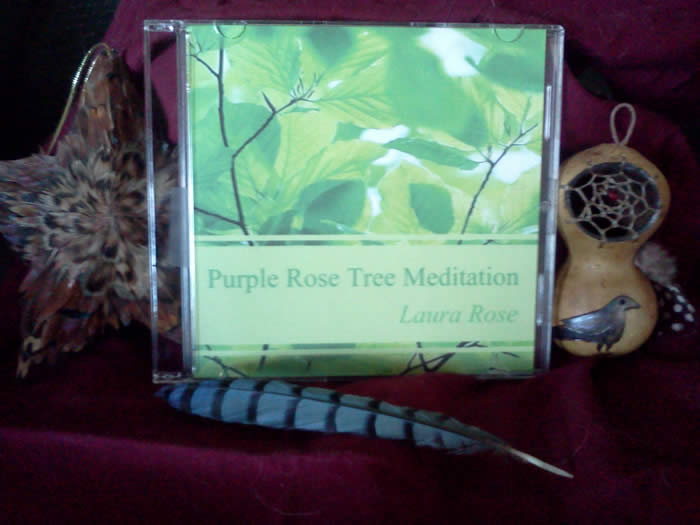 ***After a successful purchase, you must click the "return to merchant"
button from pay pal to access the file!!
Purple Rose Spirit Guide Meditation
as an mp3 file
By Laura Rose
In the Purple Rose Spirit Guide Meditation Laura Rose takes you on a relaxing journey to meet with your Spirit Guide(s). Spirit Guides are Love and Light beings that protect and guide us from the other side. They can help us in miraculous ways with everything from finding a new job to discovering our life's purpose. Most of us have one main guide as well as many others helping us. Our guides are just waiting to connect with us more directly. The Purple Rose Spirit Guide Meditation is a twenty minute guided meditation that provides you with the opportunity to connect and communicate with your guides easily and effortlessly. $9.95 © 2013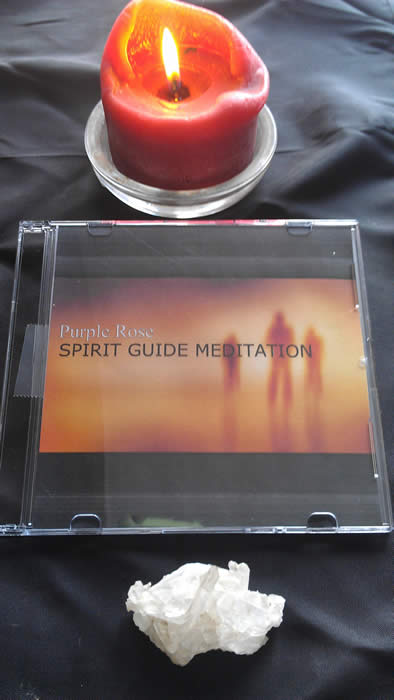 ***After a successful purchase, you must click the "return to merchant"
button from pay pal to access the file!!